"If an individual Christian does not show love toward other true Christians, the world has a right to judge that he or she is not a Christian." —Francis Schaeffer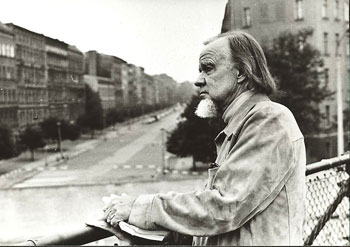 I
I read Francis Schaeffer's The Mark of the Christian shortly after it was published in 1970. Schaeffer quoted Christ's words in John 13:35: "By this all people will know that you are my disciples, if you have love for one another." Then he cited Jesus's prayer in John 17:21 that the disciples "may all be one, just as you, Father, are in me, and I in you, that they also may be in us, so that the world may believe that you have sent me."
Schaeffer tied the verses together:
[In John 13:35] if an individual Christian does not show love toward other true Christians, the world has a right to judge that he or she is not a Christian. Here [in John 17:21] Jesus is stating something else that is much more cutting, much more profound: We cannot expect the world to believe that the Father sent the Son, that Jesus's claims are true, and that Christianity is true, unless the world sees some reality of the oneness of true Christians. (26–27)
A beautiful, biblical slap in the face.
The Final Apologetic
I was 16—a new believer studying how to defend gospel truth to friends and family. Yet Schaeffer called Christian love and unity "the final apologetic," the ultimate defense of our faith.
Schaeffer helped me see what should have been self-evident in Christ's words: believers' love toward each other is the greatest proof that we truly follow Jesus. If we fail to live in loving oneness, the world—or to bring it closer to home, our family, and friends—will have less reason to believe the gospel.
In 1977, some of us who'd struggled at our churches gathered to worship and study Scripture. Before we knew it, God planted a new church. Our fellowship was a breath of fresh air. At 23, as a naive co-pastor, I thought we'd found the secret to unity. But eventually, though our numbers rapidly increased, too many left our gatherings feeling unloved, not experiencing what Schaeffer called the "reality of the oneness of true Christians."
Our Deep Disunity
In the 52 years I've known Jesus, I've witnessed countless conflicts between believers. But never more than in the last year. Many have angrily left churches they once loved. Believers who formerly chose churches based on Christ-centered Bible teaching and worship now choose them based on non-essential issues, including political viewpoints and COVID protocols.
Churches are experiencing a pandemic of tribalism, blame, and unforgiveness—all fatal to the love and unity Jesus spoke of. Rampant either/or thinking leaves no room for subtlety and nuance. Acknowledging occasional truth in other viewpoints is seen as compromise rather than fairness and charitability.
Sadly, evangelicals sometimes appear as little more than another special-interest group, sharing only a narrow "unity" based on mutual outrage and disdain. This acidic, eager-to-fight negativity highlights Schaeffer's point that we have no right to expect unbelievers to be drawn to the good news when we obsess about bad news and treat brothers and sisters as enemies.
Playing into Satan's Strategy
The increase in Christians bickering over non-essentials doesn't seem to be a passing phase. And it injures our witness, inviting eye rolls and mockery from unbelievers and prompting believers to wonder whether church hurts more than it helps.
Satan is called the accuser of God's family (Revelation 12:10) and uses every means to undercut our love for each other. Too often we do his work for him. His goal is to divide churches and keep people from believing the gospel. "By this it is evident who are the children of God, and who are the children of the devil: whoever who does not practice righteousness is not of God, nor is the one who does not love his brother" (1 John 3:10). When we fail to love each other, we are acting like the devil's children.
"Give no opportunity to the devil" (Ephesians 4:27). To resist the devil, we must love God with abandonment, and love our neighbor as ourselves. That central principle is the heart and soul of Scripture. "The whole law is fulfilled in one word: 'You shall love your neighbor as yourself.' But if you bite and devour one another, watch out that you are not consumed by one another" (Galatians 5:14–15).
Few words of Jesus are as sobering as these: "I tell you that everyone will have to give account on the day of judgment for every empty word they have spoken. For by your words you will be acquitted, and by your words you will be condemned" (Matthew 12:35-36).
Unity of Differing Opinions
When Paul wrote to believers in Rome, he addressed the issues of eating "unclean" meat and which day to worship on—each certainly as if not more controversial in the culture of their day as most political issues or COVID responses are to us today. The paradigm-shifting revelation he shared in Romans 14 is this: while true love and unity are never achieved at the expense of primary biblical truths, they are achieved at the expense of our personal preferences about secondary issues.
We are to welcome those who think and act differently than we do and are "not to quarrel over opinions" (Romans 14:1). Or as the NLT puts it, "Don't argue with them about what they think is right or wrong." Love doesn't require wholesale agreement.
Let not the one who eats despise the one who abstains, and let not the one who abstains pass judgment on the one who eats, for God has welcomed him. (Romans 14:3)
Paul emphatically states that equally Christ-centered people can have different beliefs, which lead to them taking different—even opposite—actions in faith. They are OK with God and therefore should be OK with us (unless we have higher standards than God).
"One person esteems one day as better than another, while another esteems all days alike. Each one should be fully convinced in his own mind" (Romans 14:5). We can take contradictory positions on nonessential issues but still honor God by valuing love over our opinions.
Pursue What Makes for Peace
As long as we hold our convictions with faith and a good conscience, God Himself approves of people on both sides of nonessential matters. And if God can be pleased both by those who do and don't eat certain foods that were addressed under Old Testament law, and by those who worship on the Sabbath or another day of the week, can't He also be pleased with those who choose to take or not take a vaccine, or to wear or not wear a mask?
"Who are you to pass judgment on the servant of another?" (Romans 14:4). God warns us not to set up our own judgment seats as if we were omniscient. Why do we imagine we can know that a brother's or sister's decisions, heart, and motives are wrong?
"Each of us will give an account of himself to God. Therefore let us not pass judgment on one another" (Romans 14:12–13). We will not ultimately answer to each other, but we will answer to God concerning each other. We lack the qualifications of the only true Judge, including omniscience, infinite wisdom, and righteousness.
"So then let us pursue what makes for peace and for mutual upbuilding. . . . The faith that you have, keep between yourself and God" (Romans 14:19, 22). Peace and edification don't come naturally; they require Spirit-empowered work.
The call to "pursue" peace (or "make every effort," NIV) means unless there's a compelling reason to speak or post, and you've sought God's direction and sense his leading, and you can speak graciously, then do what Scripture says and keep what you believe between yourself and God. Having a strong opinion never equals God telling us to express it. Scripture confronts us for how we have treated each other before the watching world:
"A fool takes no pleasure in understanding, but only in expressing his opinion" (Proverbs 18:2).
"When words are many, transgression is not lacking, but whoever restrains his lips is prudent" (Proverbs 10:19).
"There is one whose rash words are like sword thrusts, but the tongue of the wise brings healing" (Proverbs 12:18).
Steps Toward Love and Unity
"Owe no one anything, except to love each other, for the one who loves another has fulfilled the law" (Romans 13:8). We don't simply owe it to God to love each other and thereby obey Him. We owe love to one another.  We are part of God's family. We need each other.
What practical steps might we take toward love and unity in our fractured times?
1. Practice James 1:19. If we would only "be quick to listen, slow to speak, and slow to anger," this alone would foster love and unity to an astonishing degree.
2. When you disagree, if possible, meet face to face and talk. Don't shred each other publicly.
3. Ask yourself where you are pointing. Will my words or social-media post be more or less likely to draw others to Jesus?
4. Raise your expectations for love and unity in your church. Lower your expectations for them coming naturally or easily.
5. Repent of being an agitator; commit to becoming a peacemaker.
6. Talk to your church leaders. Honestly articulate problems and ask how you can help foster love and unity.
7. Pray for those who've hurt you. Doing so transformed my relationship with a brother. One of my wife's closest friends is someone she chose to intercede for decades ago, despite their conflicts.
8. Ask God to help you reject pride and develop true humility. John Newton wrote, "What will it profit a man if he silences his adversary and loses that humble spirit in which the Lord delights?"
A.W. Tozer said, "Only the humble are completely sane, for they are the only ones who see clearly their own size and limitations" (Tozer on Christian Leadership). To think clearly is to think humbly. "Think of yourself with sober judgment" (Romans 12:3).
Show Them Jesus
True unity is grounded on
mutually believed primary truths about Jesus,
refusal to elevate secondary beliefs over primary beliefs,
demonstrated heartfelt love for Jesus and others, and
the supernatural work of the Holy Spirit.
When I reread The Mark of the Christian fifty years later, when divisiveness is the air we breathe, it spoke to me more deeply than ever. Schaeffer's message rings true: when we call upon God, and make concerted efforts to live in humble love and unity, people will see Jesus. By His grace, some will believe in Him.
"May the God who gives endurance and encouragement give you the same attitude of mind toward each other that Christ Jesus had, so that with one mind and one voice you may glorify the God and Father of our Lord Jesus Christ. Accept one another, then, just as Christ accepted you, in order to bring praise to God" (Romans 15:5-7, NIV). 
www.epm.org.